rdxLOCK Software

Software for Regulatory Compliance Archiving and Ransomware Protection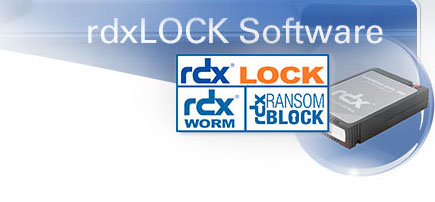 Overland Storage Products
rdxLOCK Software
RDX 1 TB
RDX 1 TB Hard Drive Cartridge - Internal - Removable REMOVABLE DISK CARTRIDGE
#8868-RDX
Our Price: $601.00
RDX 2 TB
RDX 2 TB Hard Drive Cartridge - Internal - Removable REMOVABLE DISK CARTRIDGE
#8869-RDX
Our Price: $752.00
RDX 4 TB
RDX 4 TB Hard Drive Cartridge - Internal - Removable REMOVABLE DISK CARTRIDGE
#8870-RDX
Our Price: $1,004.00
More pricing below, click here
rdxLOCK Software

Software for Regulatory Compliance Archiving and Ransomware Protection
rdx LOCK is a software solution that enables RDX® WORM media to be used as a storage device for regulatory compliance archiving (WORM), where data must not be deleted or overwritten, or for ransomware protection (RansomBlock), which secures backups against virus and ransomware attacks and ensures full recovery in case of infected data and blocked computer systems. Initially, users must decide, whichever functionality should be implemented for a specific media. By utilising multiple media, users can mix WORM, RansomBlock and standard RDX media according to their needs.
The software itself is downloadable for free and provides a 60-day trial of the full functionality* for new and existing RDX media. RDX WORM media include a software license linked to this RDX media and capacity for everlasting usage.
Also see our RDX WORM Media page.
RDX Technology Overview
RDX technology is an economical and easy-to-use removable disk-based storage system for small and medium-sized businesses. The technology combines the best of tape—reliability, portability, long archive life and low cost with the best of disk—speed, random access and ease of use.
The Tandberg Data RDX® QuikStor™ stores data in minutes rather than hours, and allows users to search files randomly and retrieve data in milliseconds. The RDX QuikStor is compatible with common file systems and backup applications.
Today's RDX-based solutions include single dock systems and RDX® QuikStation™ 8 and RDX® QuikStation™ 4 disk appliances. RDX systems are used by organizations for data storage, backup, archive, disaster recovery and cloud seeding, among other applications.
*Data will not be accessible after 60 days unless a valid RDX WORM media with license will be purchased and installed
Specifications:


Media
Capacity
1TB, 2TB, 4TB
Specifications
Click here to see RDX WORM Media page.
Functionality
Software
rdxLOCK with WORM and RansomBlock functionality
System Requirements
Operating Systems Server
MS Windows Server 2008 R2 SP2 Standard & Enterprise Edition, 64-bit, Microsoft Failover Cluster Support

MS Windows Server 2012 Standard & Enterprise Edition, 64-bit

MS Windows Server 2012 R2 Standard & Enterprise Edition, 64-bit, Microsoft Failover Cluster Support

MS Windows Server 2016
Operating Systems Desktop
MS Windows 7, 32-bit, 64-bit

MS Windows 8, 32-bit, 64-bit

MS Windows 8.1, 32-bit, 64-bit

MS Windows 10, 32-bit, 64-bit

No Itanium based systems and Windows core installations
Hardware Compatibility
All RDX QuikStor internal and external drives

RDX QuikStation 4 (in RDX-Drive and autoloader mode)

RDX QuikStation 8 (in RDX-Drive and autoloader mode)
Overland Storage Products
rdxLOCK Software
RDX 1 TB
RDX 1 TB Hard Drive Cartridge - Internal - Removable REMOVABLE DISK CARTRIDGE
#8868-RDX
Our Price: $601.00
RDX 2 TB
RDX 2 TB Hard Drive Cartridge - Internal - Removable REMOVABLE DISK CARTRIDGE
#8869-RDX
Our Price: $752.00
RDX 4 TB
RDX 4 TB Hard Drive Cartridge - Internal - Removable REMOVABLE DISK CARTRIDGE
#8870-RDX
Our Price: $1,004.00