RDX WORM Media

Regulatory and Compliance Archiving and Ransomware Protection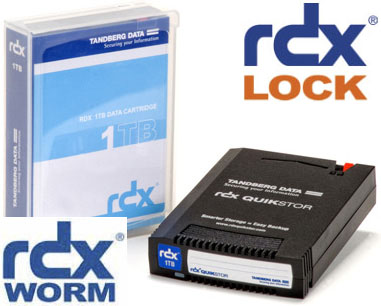 Overland Storage Products
RDX Media
RDX 1 TB
RDX 1 TB Hard Drive Cartridge - Internal - Removable REMOVABLE DISK CARTRIDGE
#8868-RDX
Our Price: $601.00
RDX 2 TB
RDX 2 TB Hard Drive Cartridge - Internal - Removable REMOVABLE DISK CARTRIDGE
#8869-RDX
Our Price: $752.00
RDX 4 TB
RDX 4 TB Hard Drive Cartridge - Internal - Removable REMOVABLE DISK CARTRIDGE
#8870-RDX
Our Price: $1,004.00
More pricing below, click here
RDX WORM Media

Regulatory and Compliance Archiving and Ransomware Protection
RDX WORM media offers security features like WORM (write once, read many) and RansomBlock (ransomware protection).
RDX WORM media meets an expanded set of regulatory and compliance requirements. It is ideal for use with a large number of archiving applications, like enterprise content management and document management systems, where data must not be deleted or overwritten.
Not Just for Business Data
Professional IT departments have trusted in RDX technology as a reliable and affordable backup and disaster recovery solution for years. With RDX WORM, this technology can also be used as storage for regulatory and compliance. In addition, semi-professional users can store and archive their photos and movies in an undeletable way as well as secure them against virus attacks with RDX WORM.
WORM
WORM (Write Once Read Many) refers to a technology that prevents data from being deleted, changed or overwritten. Files can be added and accessed as usual. WORM media are integrated in digital archiving applications and are primarily used to meet regulatory and compliance requirements, where data must not be deleted, overwritten or changed. Capacities up to 4TB per media, reduces the number of media to be managed. The rugged design offers more reliability in comparison to optical media.
Key Benefits:
Meets Regulatory and Compliance Requirements


Field of Applications

Enterprise Content Management Systeme (ECM)
Document Management Systems (DMS)
Finance Data
Data Logging
Patient Files like PACS
Video and Voice Recording
Documentation



Rugged, Secure Media


Easy to use, no Change in Workflow


Transparent Application Integration


High Transfer Rates and Fast Data Access


High Capacity, Up to 4TB per media
RDX WORM Field of Applications
RDX WORM can be deployed in a variety of applications as a media which meets regulatory and compliance requirements. Enterprise Content Management and Document Management Systems contain documents which have to be archived in an unchangable manner to meet compliance and regulatory requirements. In the medical arena for example, patient files, x-rays, billing information, surgery documentation and hospital records must be archived and safeguarded to comply with standard laws and practices. Also documentation, technical plans and audits have to be stored in a secure manner, as they are needed for legal investigations or compliance audits.
RDX WORM is also important for voice and video recording as this data could be provided as a proof in court case. This also applies to financial data records and data logging applications. In addition, small and medium-sized businesses can use RDX WORM to archive their tax-relevant data and accounting data for a certain amount of years for auditing purposes.
An additional feature of rdxLOCK software is RDX RansomBlock. This functionality protects backups against virus and malware like ransomware by securing and monitoring write actitivities. RansomBlock is an elective option of the rdxLOCK software and included in the RDX WORM media license.
RDX drives can be directly installed into application servers to integrate RDX on the hardware side. The external drive is attached via USB and offers a fast and easy deployment with laptops and desktops.
Our RDX® QuikStation™ is a removable disk appliance with 4 or 8 RDX drives. It connects easily via iSCSI into existing networks and is well suited for virtual environments or workgroups with several computer systems.
Easy to Use
Integrating RDX WORM media is as easy as using conventional RDX technology. The Windows®-based software rdxLOCK enables the WORM functionality and manages read-/write-access. RDX WORM is tranparent for archiving applications and document management solutions. Even files that are copied to the media via drag and drop are secured immediately by the WORM functionality media and can be seemlessly integrated in existing workflows and enhance compliance requirements.
RDX
The RDX® QuikStor™ technology combines the advantages of tape (portability, long archival life) with the advantages of disk-technology (high performance, fast data access, data reliability). RDX media are rugged, drop-resistant and electrostatic-proof removable disk systems which secures data for backup archiving, transport, data interchange and off-site storage.
RDX TENCASE
RDX TENCASE is the ideal solution for transportation and long-term safe-keeping of up to 10 RDX media. RDX TENCASE is a rugged case, which withstands drops, dust and harsh environments. It is water-resistant and can be secured with two padlocks for theft-protection of critical data.
Specifications:


Media
Capacity
1TB, 2TB, 4TB
Reliability & Data Integrity
Unrecoverable Error Rate
1 error in 10(14) bits read
Cartridge Drop Shock (Non-operating)
1m (39.4in.) drop to tile over concrete floor
Load-/ Unload (Minimum)
5,000 insertion / removal cycles (media), 10,000 insertion / removal cycles (drive)
Archival Environmental
Cartridge Archive Storage Life
< 10 years (HDD) offline storage in archival environment
Temperature
5° to 26°C (41° to 78°F)
Relative Humidity
8% - 90% (non-condensing)
Maximum Wet Bulb
25°C (77°F) (non-condensing)
WORM Functionality
Software
rdxLOCK
System Requirements
Operating Systems Server
MS Windows Server 2008 R2 SP2 Standard & Enterprise Edition, 64-bit, Microsoft Failover Cluster Support

MS Windows Server 2012 SP2 Standard & Enterprise Edition, 64bit,
MS Windows Server 2012 R2 Standard & Enterprise Edition, 64-bit, Microsoft Failover Cluster Support

MS Windows Server 2016
Operating Systems Desktop
MS Windows 7 (32bit, 64bit), MS Windows 8 (32bit, 64bit), MS Windows 8.1 (32bit, 64bit), MS Windows 10 (32-bit, 64-bit)

No Itanium based systems and Windows core installations
Hardware
All RDX QuikStor internal and external drives

RDX QuikStation 8 iSCSI (in RDX-Drive and autoloader mode)
RDX QuikStation 4 iSCSI (in RDX-Drive and autoloader mode)
Overland Storage Products
RDX Media
RDX 1 TB
RDX 1 TB Hard Drive Cartridge - Internal - Removable REMOVABLE DISK CARTRIDGE
#8868-RDX
Our Price: $601.00
RDX 2 TB
RDX 2 TB Hard Drive Cartridge - Internal - Removable REMOVABLE DISK CARTRIDGE
#8869-RDX
Our Price: $752.00
RDX 4 TB
RDX 4 TB Hard Drive Cartridge - Internal - Removable REMOVABLE DISK CARTRIDGE
#8870-RDX
Our Price: $1,004.00