LTO Ultrium Tape Media

Rethink Backup and Archive with LTO Tape Media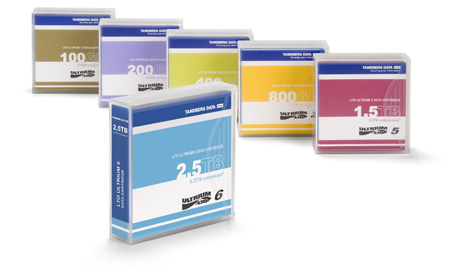 Overland Storage Products
LTO Ultrium Tape Media
LTO-4
LTO Ultrium 4 Data Cartridge with Bar Code Labeling - LTO-4 - Labeled - 800 GB (Native) / 1.60 TB (Compressed) - 1 Pack LABELED 5 PACK
#OV-LTO901405
Our Price: $147.00
LTO-5
LTO Ultrium 5 Data Cartridge with Bar Code Labeling - LTO-5 - Labeled - 1.50 TB (Native) / 3 TB (Compressed) - 1 Pack LABELED
#OV-LTO901505
Our Price: $141.00
LTO-6
LTO Ultrium 6 Data Cartridge - LTO-6 - Labeled - 2.50 TB (Native) / 6.25 TB (Compressed) DATA CARTRIDGE PURCHASE IN QTY OF 5
#OV-LTO901605
Our Price: $160.00
LTO-7
LTO-7 - Labeled - 6 TB (Native) / 15 TB (Compressed) - 3149.61 ft Tape Length - 5 Pack PRELABELLED
#OV-LTO901705
Our Price: $428.00
LTO-8
LTO Ultrium-8 Data Cartridge - LTO-8 - Labeled - 12.80 TB (Native) / 32 TB (Compressed) - 5 Pack PRE-LABELLED
#OV-LTO901805
Our Price: $1,139.00
LTO-Clean
Cleaning Cartridge - For Shaver Cleaning System - 5 / Box CARTRIDGES 1 BOX OF 5
#OV-LTOCLN05
Our Price: $166.00
More pricing below, click here
LTO Ultrium Tape Media

Overland-Tandberg LTO Ultrium data cartridges and cleaning cartridges are recommended for use with all Overland-Tandberg LTO tape drives, tape autoloaders and tape libraries. Used in the design, test and manufacture of our NEO Series family of tape-based storage solutions, Overland-Tandberg Data LTO media ensures the availability and security of your data. With over 25,000PB (25 Exabytes) of data stored on LTO media worldwide, LTO media provides the absolute lowest cost per gigabyte and highest reliability for long-term data storage when compared with alternative archive media.
Key Benefits:
High capacity, with as much as 30TB of data stored on each LTO cartridge
Cartridge memory chip delivers faster access time and enhanced media monitoring
Durable cartridge reduces media failures and eliminates disrupted backup
Extreme laboratory testing for superior data availability
Data security via hardware encryption of cartridge contents
A variety of choices of media types and services, including custom barcode labeling
Designed for a 30-year archival life and/or 260 full backups
Enables businesses to meet regulations for data retention and archiving
Limited lifetime warranty
Overland-Tandberg LTO Ultrium media provides compatibility across multiple product generations, delivers the ultimate in choice and affordability, ensuring superior investment protection.
Current LTO media products include:
LTO-4, LTO-5, LTO-6, LTO-7 & LTO-8 Data Cartridges
LTO Universal Cleaning Cartridge
Specifications:


TAPE FORMAT
LTO-4
LTO-5
LTO-6
LTO-7
LTO-8
Storage Capacity
800GB / 1600GB*
1.5TB / 3TB*
2.5TB / 5.25TB*
6TB / 16TB*
12TB / 30TB*
Transfer Rate
Up to 240 MB/s*
Up to 280 MB/s*
Up to 400 MB/s*
Up to 750 MB/s*
Up to 750 MB/s*
Number of Tracks
896
1280
2176
3584
Cartridge Memory
8KB
8KB
16KB
16KB
Cartridge Color
Green
Light Blue
Purple
Grey
Green
Cartridge Dimensions
102.0 × 105.4 × 21.5mm
Includes Barcode Labels?
Yes
Cartridge Weight
0.65 lbs.
Operating Temperature
10° – 45°C
Storage Temperature
16° - 32°C
Humidity
10 – 80%**
Durability (Nominal)
1,000,000 passes on any area of tape, equates to over 20,000 end to end passes/260 full tape backups
Archival Life
30 years
Warranty
Limited lifetime warranty (typically 30 years)
* Assumes compression ratio of 2:1 on LTO-4/5 & 2.5:1 on LTO-6/7/8
** Without dewing, dimensional specifications are nominal
Media
Drives
LTO8
LTO7
LTO6
LTO5
LTO4
LTO3
LTO2
LTO1
LTO8
Read/write
Read/write
N/A
N/A
N/A
N/A
N/A
N/A
LTO7
N/A
Read/write
Read/write
Read
N/A
N/A
N/A
N/A
LTO6
N/A
N/A
Read/write
Read/write
Read
N/A
N/A
N/A
LTO5
N/A
N/A
N/A
Read/write
Read/write
Read
N/A
N/A
LTO4
N/A
N/A
N/A
N/A
Read/write
Read/write
Read
N/A
LTO3
N/A
N/A
N/A
N/A
N/A
Read/write
Read/write
Read
LTO2
N/A
N/A
N/A
N/A
N/A
N/A
Read/write
Read/write
LTO1
N/A
N/A
N/A
N/A
N/A
N/A
N/A
Read/write
Overland Storage Products
LTO Ultrium Tape Media
LTO-4
LTO Ultrium 4 Data Cartridge with Bar Code Labeling - LTO-4 - Labeled - 800 GB (Native) / 1.60 TB (Compressed) - 1 Pack LABELED 5 PACK
#OV-LTO901405
Our Price: $147.00
LTO-5
LTO Ultrium 5 Data Cartridge with Bar Code Labeling - LTO-5 - Labeled - 1.50 TB (Native) / 3 TB (Compressed) - 1 Pack LABELED
#OV-LTO901505
Our Price: $141.00
LTO-6
LTO Ultrium 6 Data Cartridge - LTO-6 - Labeled - 2.50 TB (Native) / 6.25 TB (Compressed) DATA CARTRIDGE PURCHASE IN QTY OF 5
#OV-LTO901605
Our Price: $160.00
LTO-7
LTO-7 - Labeled - 6 TB (Native) / 15 TB (Compressed) - 3149.61 ft Tape Length - 5 Pack PRELABELLED
#OV-LTO901705
Our Price: $428.00
LTO-8
LTO Ultrium-8 Data Cartridge - LTO-8 - Labeled - 12.80 TB (Native) / 32 TB (Compressed) - 5 Pack PRE-LABELLED
#OV-LTO901805
Our Price: $1,139.00
LTO-Clean
Cleaning Cartridge - For Shaver Cleaning System - 5 / Box CARTRIDGES 1 BOX OF 5
#OV-LTOCLN05
Our Price: $166.00