RDX Cartridge Encryptor Software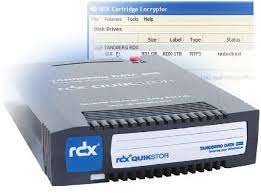 RDX Cartridge Encryptor Software
RDX Cartridge Encryptor™ (RCE) is a free software from Tandberg Data that allows RDX® users to easily encrypt data stored on RDX disk cartridges. RCE incorporates industry standard AES 256-bit encryption combined with secure erase and cryptographic key deletion, Optimized for performance and simplicity, this free encryption software appeals to small business owners who have or will adopt strict security policies for their data.
Features of the RDX Cartridge Encryptor Include:
Free and simple download and installation
Industry-standard AES 256-bit encryption
Secure erase overwrite technology
Crypto deletion of keys
Compatibility with all makes and models of RDX docks
Compatibility with all generations and capacities of RDX disk cartridges
Compatibility with Tandberg Data RDX QuikStation disk device configurations
RDX Technology Overview
RDX technology is an economical and easy-to-use removable disk-based storage system for small and medium-sized businesses. The technology combines the best of tape-reliability, portability, long archive life and low cost with the best of disk-speed, random access and ease of use.
The Tandberg Data RDX® QuikStor™ stores data in minutes rather than hours, and allows users to search files randomly and retrieve data in milliseconds. The RDX QuikStor is compatible with common file systems and backup applications.
RDX cartridges are available in hard drive and solid-state disk drive capacities ranging from 500GB to 5TB*. High native storage capacities combined with the RDX drive's 330MB/sec (drive and media dependent) speed means full backups can be performed every day in much less time than it takes to do incremental backups to other entry-level data storage solutions.
Today's RDX-based solutions include single dock systems; LAN-attached disk-based appliances; and RDX QuikStation disk libraries. RDX systems are used by organizations for data storage, backup, archive, disaster recovery and cloud seeding, among other applications.
Documentation:
Download the RDX Cartridge Encryptor Software Datasheet (PDF).