LTO-8 HH

Rethink Backup and Archive with LTO Tape Drives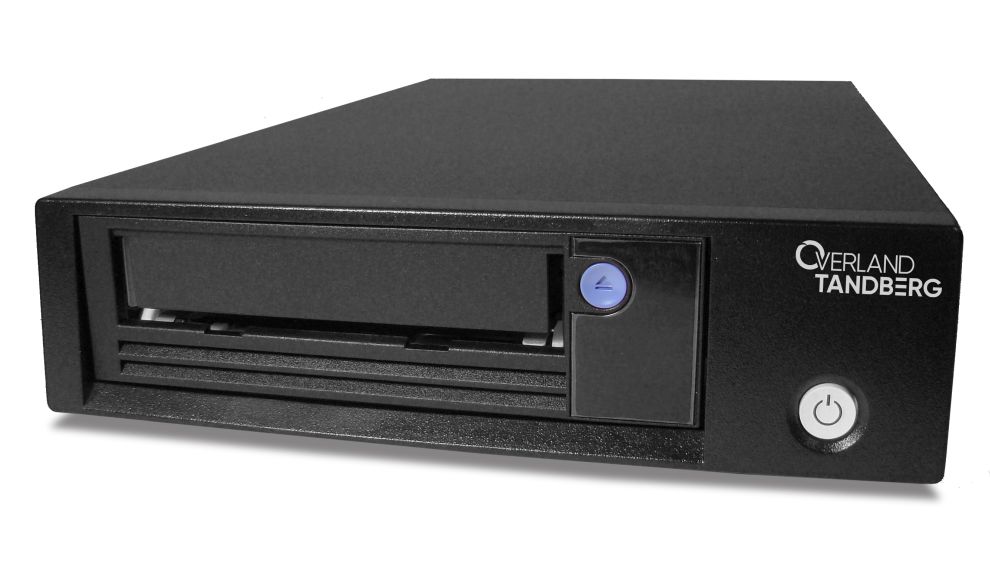 Overland Storage Products
LTO-8 HH
LTO-8 HH Internal Drive, SAS, Bare
12 TB (Native)/30 TB (Compressed) - Black - 6Gb/s SAS1/2H Height - Internal - 300 MB/s Native - 750 MB/s Compressed - Linear Serpentine TAPE DRIVE BLACK
#TD-LTO8iSA
List Price:
$3,529.00
Our Price: $2,820.00
LTO-8 HH Internal Drive, FC, Bare
12 TB (Native)/30 TB (Compressed) - Black - Fibre Channel1/2H Height - Internal - Linear Serpentine TAPE DRIVE BLACK
#TD-LTO8iFC
Our Price: $4,210.00
LTO-8 HH External Drive, SAS, Kit
12 TB (Native)/30 TB (Compressed) - SAS1/2H Height - External - Linear Serpentine - TAA Compliant DRIVE TAA COMPLIANT
#TD-LTO8xSA
Our Price: $3,839.00
More pricing below, click here
LTO-8 HH

The Overland-Tandberg LTO-8 tape drive technology is the newest LTO-generation and follows the roadmap of the LTO consortium, which now includes 12 generations.
The uncompressed capacity has doubled to 12TB compared to the predecessor LTO-7. The compressed transfer rate remains the same and amounts to 2.7TB/h. LTO-8 is the optimal solution for capacity-hungry, performance-driven applications like in the media and entertainment industry, in imaging applications, in medical environments or for the collection of scientific data. The LTO-8 tape drive supports LTFS, WORM and AES 256-bit hardware encryption providing maximum protection for data stored off-site or in transit. LTO-8 drives are read/write compatible with LTO-7 media.
Features
Capacity: 12TB / 30TB (native/compressed*)
Performance up to 2.7 TB/h (compressed*)
Low cost of ownership and low media cost
Enterprise features and performance in a small form factor
Future proof with 12-generation roadmap
Data speed matching reduces mechanical wear and extends tape life
Proven reliability MTBF of 250,000 hrs at 100% duty cycle
LTFS, WORM and AES 256-bit encryption
30 year archival life
3 years Advanced Replacement Service warranty
Key Benefits:
Backup as much as 30TB of data on a single cartridge
Reduce your backup window and use of server and network resources with high-performance data transfer rates
Maximize your investment and ensure that your data is safe with proactive drive and media management
Secure confidential information and address compliance issues with hardware data encryption and WORM support
Ensure effortless connectivity with widespread server and backup software support
Provide backward compatibility to legacy tape cartridges in automation environments
LTO-7 Type M
LTO-7 type M media are LTO-7 media, which are initialized in a LTO-8 drive. In addition, dedicated barcode labels will be used to mark these media in an automation environment. LTO-7 type M media provide a capacity of 9TB, which is a perfect choice for customers who do not need the total capacity of a LTO-8 media.
* Assumes compression ratio of 2:1 on LTO-4/5 and 2.5:1 on LTO-6,7 and 8
Specifications:


Capacity (native/compressed)
12TB / 30TB*
Transfer Rate (native/compressed)
300 MB/s / 750 MB/s*
Dynamic Speed Matching
112-300MB/s
Memory Buffer Size
1GB
Data Access Speed
50 sec.
Data Compression
16KB (2.5:1)
Encryption
AES 256-bit
LTFS
Yes
Recording format
LTO Ultrium 8
Interface
6GB SAS/SFF 8088
Reliability
MTBF Hours (100% duty cycle)
250,000 hours @ 100% duty cycle
Head Life
100,000 tape running hours
Hard Error Rate
1 x 10(-19) bits
Environmental Specifications
Temperature (Operating)
50° - 100°F (10°C - 38°C)
Temperature (Non-operating)
-40° – 151°F (-5°C - 65°C)
Relative Humidity (Operating)
20 – 80% (non-condensing)
Relative Humidity (Non-operating)
10 – 95% (non-condensing)
Power Requirements
Idle
4 W
Typical
30 W
Maximum
42 W
Power Supply/ Required (int)
5V DC, 3.7A, 12 V, 0.9A
Certification
CSA Certification to C22.2, No. 60950 (cCSAus), TUV EN60950 (IEC 60950), CE Declaration of Conformity, FCC 47 CFR Parts 15, NOM, VCCI. C-TICK, RRL, BSMI, GOSH CB Certificate and Report (IEC 60950)
Warranty
3-years Advance Replacement Service Warranty**
Dimensions
Physical Internal /
External (HxWxD)
1.7 in. x 5.8 in. x 8.3 in.(43.2mm x 147.3mm x 210.8mm) /
2.3 in. x 8.4 in. x 13.1 in. (58.4mm x 213.4mm x 332.7mm)
Weight
Weight Out of box, Internal
3.7 lbs. (1.7 kg)
Weight Out of box, External
9.4 lbs. (4.3 kg)
* Assumes compression ratio 2:1 on LTO-2/3/4/5 & 2.5:1 on LTO-6/7/8
** Availability dependent on location
Tape Drive Specifications

LTO-8
LTO-7
LTO-6
LTO-5
Capacity (native)
12TB
6TB
2.5TB
1.5TB
Capacity (Compressed)
30TB
15TB
6.25TB
3.0TB
Transfer Rate (native)
300MB/s (1TB/hr.)
300MB/s (1TB/hr.)
160MB/s (576GB/hr.)
140MB/s (504GB/hr.)
Transfer Rate (compressed)
750MB/s (2.7TB/hr.)
750MB/s (2.7TB/hr.)
400MB/s (1.4TB/hr.)
280MB/s (1TB/hr.)
Ratio
2.5:1
2.5:1
2.5:1
2:1
Interface
6Gb SAS/SFF 8088
6Gb SAS/SFF 8088
6Gb SAS/SFF 8088
6Gb SAS/SFF 8088
Configurations
Internal; external/desktop
Internal; external/desktop
Internal; external/desktop
Internal; external/desktop
Internal Dimensions (HxWXD)
1.7 in. x 5.8 in. x 8.3 in.
43.2mm x 147.3mm x 210.8mm
1.7 in. x 5.8 in. x 8.3 in.
43.2mm x 147.3mm x 210.8mm
1.7 in. x 5.8 in. x 8.3 in.
43.2mm x 147.3mm x 210.8mm
1.7 in. x 5.8 in. x 8.3 in.
43.2mm x 147.3mm x 210.8mm
External Dimensions (HxWxD)
2.3 in. x 8.4 in. x 13.1 in.
58.4mm x 213.4mm x 332.7mm
2.3 in. x 8.4 in. x 13.1 in.
58.4mm x 213.4mm x 332.7mm
2.3 in. x 8.4 in. x 13.1 in.
58.4mm x 213.4mm x 332.7mm
2.3 in. x 8.4 in. x 13.1 in.
58.4mm x 213.4mm x 332.7mm
Internal Weight
3.7 lbs. / 1.7 kg
3.7 lbs. / 1.7 kg
3.7 lbs. / 1.7 kg
3.7 lbs. / 1.7 kg
External Weight
9.4 lbs. / 4.3 kg
9.4 lbs. / 4.3 kg
9.4 lbs. / 4.3 kg
9.4 lbs. / 4.3 kg
Read/Write Compatibility
Write: LTO-8, LTO-7
Read: LTO-8, LTO-7
Write: LTO-7, LTO-6
Read: LTO-7, LTO-6, LTO-5
Write: LTO-6, LTO-5
Read: LTO-6, LTO-5, LTO-4
Write: LTO-5, LTO-4
Read: LTO-5, LTO-4, LTO-3
MTBF (Mean Time Between Failure)
250,000 hours @100% duty cycle
250,000 hours @100% duty cycle
250,000 hours @100% duty cycle
250,000 hours @100% duty cycle
Buffer Size
1024MB
1024MB
512MB
256MB
Data Rate Matching (native)
112-365MB/s
101-306MB/s
40-160MB/s
40-140MB/s
Power Consumption (maximum)
30 watts
24 watts
24 watts
24 watts
Temperature (operating)
50° - 105°F
10° - 40°C
50° - 105°F
10° - 40°C
50° - 105°F
10° - 40°C
50° - 105°F
10° - 40°C
Humidity (operating)
20-80% (non-condensing)
20-80% (non-condensing)
20-80% (non-condensing)
20-80% (non-condensing)
Standard Warranty
3 yr. bronze advanced exchange
3 yr. bronze advanced exchange
3 yr. bronze advanced exchange
3 yr. bronze advanced exchange
Overland Storage Products
LTO-8 HH
LTO-8 HH Internal Drive, SAS, Bare
12 TB (Native)/30 TB (Compressed) - Black - 6Gb/s SAS1/2H Height - Internal - 300 MB/s Native - 750 MB/s Compressed - Linear Serpentine TAPE DRIVE BLACK
#TD-LTO8iSA
List Price:
$3,529.00
Our Price: $2,820.00
LTO-8 HH Internal Drive, FC, Bare
12 TB (Native)/30 TB (Compressed) - Black - Fibre Channel1/2H Height - Internal - Linear Serpentine TAPE DRIVE BLACK
#TD-LTO8iFC
Our Price: $4,210.00
LTO-8 HH External Drive, SAS, Kit
12 TB (Native)/30 TB (Compressed) - SAS1/2H Height - External - Linear Serpentine - TAA Compliant DRIVE TAA COMPLIANT
#TD-LTO8xSA
Our Price: $3,839.00